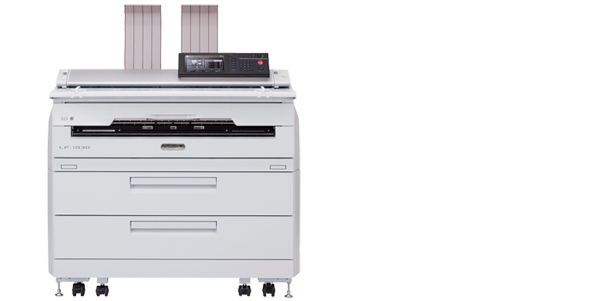 Teriostar family adds a new member to meet customer demand for superior work efficiency and easy operation.
Teriostar LP-1030 offers unparalleled productivity and ease-of-use.
High Speed Printing & Scanning
LP-1030 boasts a new print engine and scanner that enables print speed of 7.5 D-size prints per minute, 7.0 A1-size prints per minute, and scanning speed of up to 240 mm/9.4" per second for both color and black & white.
Space-Saving Compact Design
With a compact design of 1200 mm/47" (W) and 605 mm/24" (D), the Teriostar family saves space and enables easy printer positioning even in small workspaces.
Easy-to-use Large 8.5" Color Touchscreen
Color GUI (Graphical User Interface) offers improved visibility and visual guidance to achieve intuitive and simple operation.
Parallel Processing
Users can copy, print and scan at the same time.
Automatic Roll Paper Width Detection
No need for users to manually change roll settings. LP-1030 can automatically detect the paper width.
Batch Print Function
LP-1030 supports various data formats like HP-GL, TIFF and PDF. With simple drag-and-drop operation, users can batch print multiple files in supported file formats.
Viewer Function
LP-1030 allows users to view file contents in supported file formats like TIFF, PDF or JPEG without opening each application.
Scan to File
Scan driver converts wide format drawings to electronic data. Users can scan directly to a TIFF or PDF files and convert those files to other formats like BMP for offline user or for archiving drawings.
Other Features
Process cartridge for reducing downtime

2 output slots (Tray, Catch basket :Option)

User replaceable toner cartridge

Large capacity waste toner bottle