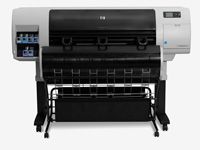 Ideal For:
Mid-range print production environments, including reprohouses looking to expand their offerings and increase profits and enterprise environments that want to replace two printers (a mono and a color printer) with one production-ready printer.
• Produce monochrome CAD drawings for the same cost as your current LED prints—and even use laser paper.
• Impress customers with crisp, accurate renders, professional images on photo paper, and presentations.
• Explore the broad HP printing materials portfolio—consistent, high-quality results save time and money.
• Load different media on 3 different rolls! HP makes it easier than ever to be flexible and versatile.
GAIN THE VERSATILITY of color printing while maintaining low monochrome printing costs. Produce a range of applications, from low-cost CAD monochrome drawings to high-quality presentations, with the same printer.
PRINT UNATTENDED RUNS during business hours and even overnight with the HP DESIGNJET STACKER.
INCREASE YOUR PRODUCTIVITY AND VERSATILITY
with an additional roll using the HP DESIGNJET ROLL UPGRADE KIT
QUICKLY TRANSFORM ANY ORIGINALS INTO DIGITAL DOCUMENTS with the HP DESIGNJET HD SCANNER
SIMPLIFY JOB PREPARATION AND IMPROVE
PRODUCTIVITY with HP Instant Printing Pro Software supported with the HP DESIGNJET POSTSCRIPT®/PDF UPGRADE KIT
(See brochure for more detailed specifications)