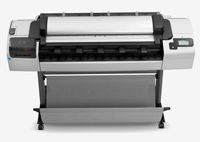 The HP Designjet T2300 eMFP
So easy and intuitive that printing and scanning is virtually effortless. Its color touchscreen makes interacting with your printer a breeze. And direct printing eliminates print driver and network hassles.
• One-click print, scan, and copy.
• Create a print-ready PDF at the same time you print with HP ePrint & Share.
• Discover the power of touch—this eMFP's color touchscreen enables intuitive operation and    page previews.
• Web-connected and easy to update. Software updates occur automatically, every six months.
This printing system is designed to inspire and aid collaboration in and out of your office. Easily print, scan, and share drawings with your partners and clients. An integrated large-format scanner lets you capture and share ideas in real time.
• Scan sketches and hand-annotated drawings.
• Scan drawings to create print-ready files. Share them via an e-mail link to your HP ePrint &   Share library.
• Work on multiple projects at the same time with two rolls and smart switching.
• Keep the collaborative flow—consistent quality results with HP printing material and Original   HP supplies.
Work with a printer that enables, rather than constrains, you. This printer does away with cables and drivers so you have greater freedom to print where and when it's most convenient—with a USB drive—in the office or at the client site.
• Instantly scan content, upload it, or send it directly to HP ePrint & Share.[1]
• Print remotely to any large-format HP Web-connected Designjet from your computer or mobile    device.
• Print TIFF, JPEG, and PDF[3] files directly from your USB thumb drive; no PC required.
• Print to any HP Designjet printer without installing multiple drivers with HP ePrint & Share.
(See Brochure for more detailed specifications)